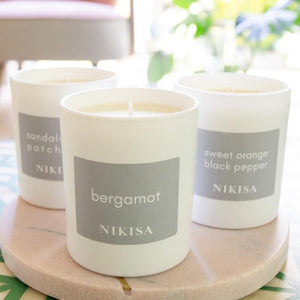 About Nikisa
My candle obsession started many years ago. Whenever I went shopping I always seemed to return home with a candle or two.  As my children grew older and became less reliant on me, I started to look for a new challenge. As a Christmas gift to a close friend I booked us onto a candle making course.  I was inspired… I bought some supplies and started making candles from my kitchen. After months of experimenting I was able to produce a selection of totally natural and long lasting soy wax candles, fragranced with 100% essential oils. The scents were of just the right strength and the candles burned completely evenly.
Essential oils are used in aromatherapy for health and wellbeing; the various blends used in each of my candles offer different benefits. The result matches exactly with the high quality candles I had hoped to create at the beginning of my journey.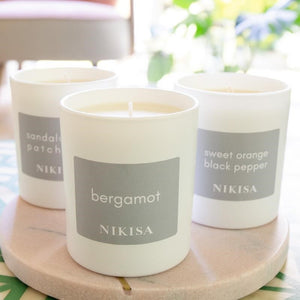 Candle Care
Allow the wax to melt all the way to the edge of the glass. This allows the candle to burn evenly all the way down without a tunnelling effect.
Keep the wick trimmed to 5mm before each burn.
Light your candle in a room without drafts or fans.